I was inspired by a TV programme I saw on BBC2 at the beginning of May about "Creating the Kelpies".
The Kelpies are 30 metre high horse-head sculptures, standing next to a new extension to the Forth and Clyde Canal in The Helix, a new parkland project in the Falkirk area of Scotland.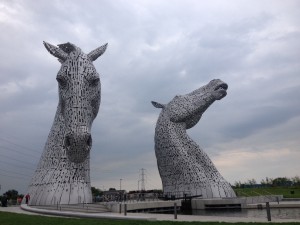 I probably need to start with an explanation of what a "kelpie" is.
A Kelpie, or water kelpie, is the name given to a water spirit or demon living in lochs and pools of water in Scotland. It has usually been described as a horse, but can change its shape to a human form. Of course the most common one we know is "Nessie" the Loch Ness Monster!
For some reason I knew nothing about the sculptures before watching the programme but was intrigued to find out about how they came about.
What amazed me the most was the artist's, Andy Scott, tenacity to bring his vision to a reality.
It took a total of 8 years to see his dream come to fruition. There were lots of testing times on the journey – upscaling the models to the size they are now, funding, approval, fabrication and finally assembly on site.
I wanted to see the Kelpies for myself. We visited recently on a not so sunny day and went on the tour that took us inside one of the structures. They looked amazing and are huge. I am sure the sight on them in the evening must be spectacular as they are all lit up with amazingly colorful lights. I would definitely recommend a visit and the tour!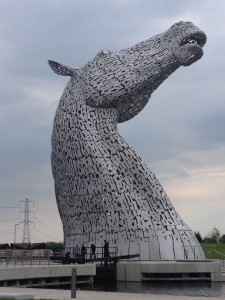 I so admire the vision of the artist to see the project through when at times it was very challenging and it seemed a mammoth project. At times it was clearly full on and times when things went quiet waiting for the next stage.
I am sure that you too can relate both in your work and personal life to projects that seem daunting. Many of which take time to plan, to fund and that require a huge amount of personal sacrifices and energy.
But when you have that vision and that dream then awesome things can come about.
What's your vision or your big dream for the future? What little step are you taking today to get nearer?