About Kinesiology
Kinesiology is a bio-feedback mechanism that tests your body's muscles to identify imbalances in the body's energy.
We call a Kinesiology session a "balance"
During a session we use muscle testing to identify where your body is out of balance. This then helps to gain information about what is needed to restore balance to your body, mind and spirit.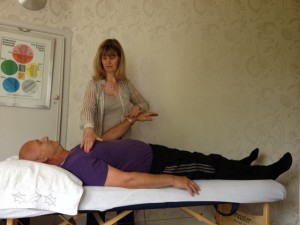 Kinesiology does NOT diagnose, prescribe or treat medical conditions or named diseases. As a Kinesiologist I would also never recommend that you come off any medications that you are taking and would, therefore, recommend you consult a medical practitioner.
Where does it come from?
Kinesiology started out in the 1960's with an American Chiropractor called Dr. George Goodheart. Literally Kinesiology means "the study of human movement". Today the work that Dr. Goodheart started has developed into Applied Kinesiology.
I am qualified Professional Kinesiology Practitioner (ICPKP www.icpkp.co.uk) and completed my training in 1999. Since then I've completed additional training and I'm one of only four Kinesiopractors® in the UK and the only one in Scotland. I am a member of the British Register of Complementary Health Practitioners and the Institute for Complementary and Natural Medicine www.icnm.org.uk
I found Kinesiology in 1995 through a reflexologist. She suggested it might help me with some digestive problems I was having.  After just a few session I realized that the hours I worked and the stress I was experiencing were contributing to problems in my work/life balance.
I was so impressed with how it helped me that I decided to study "Touch for Health", basic Kinesiology, which helped me and my friends and family. Convinced by it, I wanted to study it more.  The course I took covered lots of hands on training, homework, counselling, nutrition and anatomy and physiology.

Dr Bruce Dewe and Joan Dewe, the founders of the ICPKP (www.icpkp.com), have both been Kinesiologists for over 20 years. They describe Kinesiology this way:
"Kinesiology is a communication tool that enables a person to assess and upgrade their performance in all areas of their life. Kinesiology is the science of energy balancing and is grounded in the study of anatomy and physiology. Kinesiology uses muscles as monitors of stress and imbalance within the body. Kinesiology enables people to detect and correct various imbalances that may relate to stress, nutrition, learning problems, minor injuries and other issues they meet in their daily life." (ICPKP Definition)
Want to find out more?
If you'd like to find out if Kinesiology is for you then book your Complimentary Discovery Session with me here.
Do you need a quick energy boost right now?
Then you'll want to have a copy of my short e-book that features some really neat little corrections that you can do yourself.